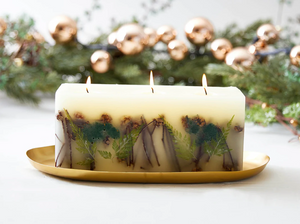 A winding path through misty woods of cedarwood and pine: crushed leaves and wet fir needles underfoot. Comes with golden plate 
Fragrance Notes: 
CLARY SAGE
CREAMY SANDAL
FALLING LEAVES
RED CEDAR
SCOTCH PINE
WHITE MUSK
WICKS: 3
BURN TIME: 160 HOURS
DIMENSIONS: 9.5"L x 3.5"W x 4"H
BOTANICALS: OMORICA CONES, BIRCH TWIGS, SCHIZAEA FERN, MOSS
ESSENTIALS: EUCALYPTUS, FIR NEEDLE, GINGER, ORANGE, PINE, VIRGINIA CEDARWOOD

A fragranced wax core is wrapped in a flame retardant barrier and then placed in a larger mold. A skilled artisan then carefully places the natural items around the core and hand pours a proprietary blend of wax into the mold. Each botanical work of art takes two days to produce. The botanicals are beautifully illuminated when the candle is lit. Rosy Rings is internationally recognized as the preeminent botanical candle manufacturer.
INSTRUCTIONS: Before lighting, remove the wrapper + label from your candle and trim the wick to 1/4". Never leave your burning candle unattended. Do not burn for longer than 5 hours at a time. Discontinue use when only 1" of wax remains at the bottom.

CARE: Avoid using in drafty areas and keep away from flammable materials. Do not allow wick trimmings or other materials to accumulate in the wax pool or a fire may result. Always burn on a level, non-flammable surface. Do not place directly on furnishings or linens.