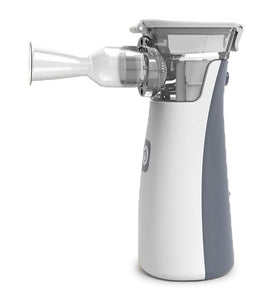 This small, lightweight atomizer is perfect for home and travel.  It is easy to use and makes an excellent fine mist for inhalation.

Great for adults and kids. With the device, you're able to inhale uniform micro-droplets that easily reach deep into the respiratory system.  It is highly efficient and leaves very little residual matter.  It's perfect for home and travel and works equally well for both adults and children.
This nebulizer can be used for both upper (sinus) and lower (throat and lung) respiratory issues.
The product includes the follow items:
Main Unit
Mask for Adult
Mask for Kids
Mouthpiece
Storage Bag
Warranty Card
Lanyard
Power Cable Adapter