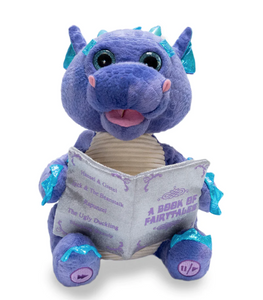 It's story time with Duncan the Storytelling Dragon! This friendly purple dragon sways as he recites five different fairy tales while his eyes magically glow!
Duncan tells the stories of Hansel & Gretel, Jack and the Beanstalk, Rapunzel, The Ugly Duckling, and Sleeping Beauty. 

Dalton has the ability to play, pause, and skip the various stories so you can play right where you left off! 
Batteries Included - Operates on 3AA batteries that are already included in the plush. Bring them home and they're ready to play! Replace batteries by unscrewing battery compartment located on the bottom of the plush.
Product Care - Spot clean with damp towel only. Do not machine wash, as the product contains a mechanical module.
Size - Measures 11"H x 1