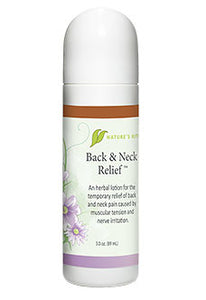 Nature's Rite Back & Neck Relief™ is an all-natural roll-on lotion.Great for tension headaches, too!Our discomfort solution is an easy-to-use, no mess, and a cost-effective product!
Your neck discomfort and tension headaches can literally disappear!
Traditional Uses:
Cramp Bark, Lavender Bud, and Peppermint – to aid in the relaxation of the skeletal muscles that cause back and neck discomfort.
John's Wort – supports the muscles to quiet over-active and irritated nerves to reduce discomfort signals.
Arnica Montana and White Willow – act as analgesics to help the body to reduce discomfort.
Comfrey and Arnica – support tissue repair.
All you have to do is apply the lotion liberally over the pained area! That's it!!!